Shredder – Model TRSA
Description
The Shredder with hydraulic movement (Model TR / SA) is applied to the lifting of three points of attractions and is operated by the power take-off with cardan transmission.
It is used in vineyards and orchards quickly freeing the inter-row from weeds, canceling the chemical weeding treatment; it can also act in the immediate vicinity of the vine and tree stumps thanks to the movement on chromed bars.
The machine is ideal for removing old vine branches and small branches after autumn pruning. It is particularly robust and very compact because it is assembled with rigorously chosen materials, not by chance the wear of its components is extremely reduced. Its particular structure provides impeccable use even in unfavorable conditions.
Our machines have been rigorously designed to serve both the less demanding grower and the more professional grower.
The "movable" model capable of eliminating weeds even in the immediate vicinity of the stumps because it provides a system on chromed bars and self-lubricating bushings, a much more robust and long-lasting lateral movement of about 30 cm.
Another distinctive note is that all our machines are already equipped as standard with free wheels inside the gearbox, also they can be corrected by a carving shaft paid for by hammers or knives, according to the needs of the clientele.
Product documentation and catalog
Technical specifications
| Model | Working Width | Machine Width | Height | Length | HP Min-Max tractor | PTO turns | Weight | Knives | Hammers |
| --- | --- | --- | --- | --- | --- | --- | --- | --- | --- |
| TR1SA | 100 cm | 112 cm | 110 cm | 80 cm | 35-50 | 540 | 280 kg | 24 | 12 |
| TR2SA | 115 cm | 127 cm | 110 cm | 80 cm | 40-55 | 540 | 300 kg | 24 | 12 |
| TR3SA | 130 cm | 142 cm | 110 cm | 80 cm | 45-65 | 540 | 310 kg | 24 | 12 |
| TR4SA | 145 cm | 157 cm | 110 cm | 80 cm | 50-70 | 540 | 358 kg | 30 | 15 |
VIDEO – SHREDDER IN ACTION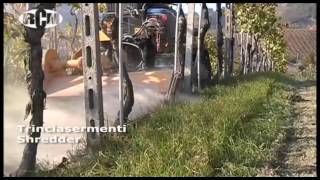 Click on the image to view the video