Shredder – Model TRL
Extremely robust and compact
Description
The Shredder model TRL is applied to the three-point lifting of wheeled and tracked tractors and is operated by the power take-off with cardan transmission.
It is used in vineyards and orchards to quickly free the area between the plants from weeds, eliminating the need for chemical weed killer. Ideal for eliminating old vine shoots and small branches after the autumnal pruning
Particularly robust and very compact, being assembled from meticulously chosen materials. It is no mere coincidence that wear and tear on the machine's components is extremely rare. Its structure enables impeccable use even in particularly adverse conditions.
It has been designed to serve both the less demanding as well as the more professional farmer.
The "fixed" models operate only in the middle of the row between the plants, while the "mobile" ones, will eliminate weeds that grow next to the plants base, being equipped with a sliding system on chromium-plated bars and on self-lubricating brasses. This system enables a much stronger and a lasting lateral movement of about 30 cm.
Another distinguishing feature is that all our machines include in their standard, a free wheel inside the gearbox and may be delivered with a shredding shaft with hammers or knives, depending on the customer's needs
Product documentation and catalog
Technical specifications
| Model | Working Width | Machine Width | Height | Length | HP Min-Max tractor | PTO turns | Weight | Knives | Hammers |
| --- | --- | --- | --- | --- | --- | --- | --- | --- | --- |
| TRL1 | 100 cm | 112 cm | 110 cm | 80 cm | 35-50 | 540 | 250 | 24 | 12 |
| TRL2 | 115 cm | 127 cm | 110 cm | 80 cm | 40-55 | 540 | 260 | 24 | 12 |
| TRL3 | 130 cm | 141 cm | 110 cm | 80 cm | 45-65 | 540 | 275 | 24 | 12 |
| TRL4 | 145 cm | 157 cm | 110 cm | 80 cm | 50-70 | 540 | 285 | 30 | 15 |
| TRL5 | 160 cm | 172 cm | 110 cm | 80 cm | 60-80 | 540 | 310 | 30 | 15 |
| TRL6 | 175 cm | 187 cm | 110 cm | 80 cm | 70-95 | 540 | 330 | 30 | 18 |
VIDEO – SHREDDER IN ACTION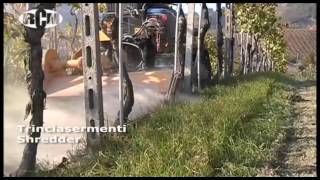 Click on the image to view the video