Rotary Tiller – Model ZP
Description
The "heavy" Tillers Mod. ZP and ZP/SA have the requirements for the maximum concept of strength, thanks to the careful selection of every material and also its design.
The machine guarantees surprising results, even in front of thick grass: the rotating speed of the tilling shaft and the grass discharging system, enables the tool to work without the risk of obstructions.
The hydraulic lateral movement of the hydraulic tiller ZP/SA, guarantees the elimination of the infesting grasses that grow close to the stump, allowing the operator to keep the tractor at a suitable distance from poles and vines.
The wide lateral movement is ensured by chromium-plated bars with self-lubricating sliding brasses, while in the "fixed" ZP models is possible to obtain a lateral movement of about 10 centimetres with a system of sliding bushes positioned beside to the tractor's connecting arms.
Product documentation and catalog
Technical specifications
| Model | Working Width | Machine Width | Machine Lenght | HP Min-Max tractor | Hoe | PTO turns | Weight |
| --- | --- | --- | --- | --- | --- | --- | --- |
| ZP2F | 110 cm | 127 cm | 80 cm | 35-50 | 24 | 540 | 280 kg |
| ZP2S | 110 cm | 127 cm | 80 cm | 35-50 | 24 | 540 | 300 kg |
| ZP3F | 120-130 cm | 137-147 cm | 80 cm | 45-60 | 30 | 540 | 290 kg |
| ZP3F | 120-130 cm | 137-147 cm | 80 cm | 45-60 | 30 | 540 | 310 kg |
| ZP3GF | 140 cm | 157 cm | 80 cm | 50-65 | 36 | 540 | 315 kg |
| ZP4F | 155 cm | 172 cm | 80 cm | 50-65 | 36 | 540 | 320 kg |
| ZP4S | 155 cm | 172 cm | 80 cm | 50-65 | 36 | 540 | 350 kg |
| ZP5F | 180 cm | 197 cm | 80 cm | 65-85 | 42 | 540 | 480 kg |
| ZP6F | 205 cm | 222 cm | 80 cm | 70-90 | 48 | 540 | 600 kg |
| ZP7F | 230 cm | 247 cm | 80 cm | 80-100 | 54 | 540 | 650 kg |
| ZP8F | 255 cm | 272 cm | 80 cm | 85-120 | 60 | 540 | 700 kg |
VIDEO – ROTARY TILLER IN ACTION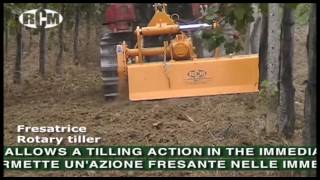 Click on the image to view the video