Model VE
Description
The technical features of this machine make it possible to eradicate any type of vineyard
also particularly hostile conditions .
The strong design and versatility in movement, can make the uprooting of vines old and new for interventions of total uprooting or interventions of only replacement.
The agility and precision of movement can make the uprooting of vines also in close contact with the pole of the grape.
The unique construction concept makes it possible to mount the machine both front and rear of the tractor and work on the left side than on the right side of the tractor.
Product documentation and catalog
Technical specifications
VIDEO – SPADE GRUBBING VINE IN ACTION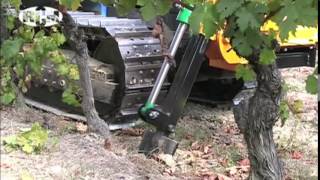 Click on the image to view the video