Model SVB
To unwind wires in rows
Description
The unwinding wire "BIG" can be applied to the third point of each tractor. It has been designed for professional workers who want to carry out several strands at the same time to limit the number of steps in the vineyard. It has a sturdy structure and the conformation of the double frame allows the yarn to be unwound from both the right and left sides. It is possible to carry out different processes based on the diameter of the wire rolls, the thickness and the possibility of varying the unwinding point of the wire.
Inside the wire holder group there are double spring stops with balls in five different positions along the rotation diameter.
The use of the unwinding-wire is extremely practical; it is sufficient to position the coil on the wire holder group by widening the special brackets and then tighten the locking wing nuts.
Product documentation and catalog
Technical specifications
| Model | Width | Length | Height | N° of rolls | Weight |
| --- | --- | --- | --- | --- | --- |
| SVB1 | 140 cm | 160 cm | 180 cm | 4 | 305 kg |
| SVB2 | 140 cm | 160 cm | 219 cm | 6 | 440 kg |
VIDEO – WIRE UNWINDING IN ACTION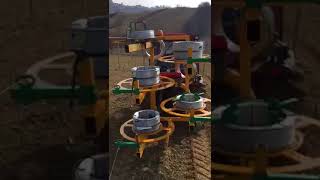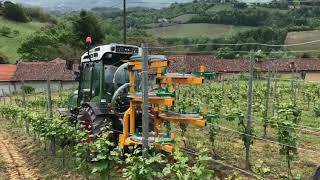 Click on the image to view the video