Model MIG46
Description
The microgranulator allows to strengthen the vine and many other types of plants to treat diseases that affect their vitality.
It's a strong and yet simple machine, designed to distribute in a precise and linear way microgranular products and make them penetrate into the ground by means of two burying devices up to a depth of 45cm.
A computer mounted on board of the tractor, allows to regulate the distribution of the products in automatic way according to the planting pattern, the speed of the tractor and of the quantity of product to be distributed per hectare.
The machine is suitable for the distribution of the products MICOSAT from CCS company
Product documentation and catalog
Technical specifications
| Model | Buryng teeth | Burier wheelbase | Machine Widht | Height | Length | Hopper Material | Hopper capacity | Dry weight |
| --- | --- | --- | --- | --- | --- | --- | --- | --- |
| MIG46 | 2 | da 85 a 140 cm | da155 a 191 cm | 160 cm | 115 cm | Stainless Steel | 50 Litri | 285 kg |
VIDEO – MICROGRANULATOR IN ACTION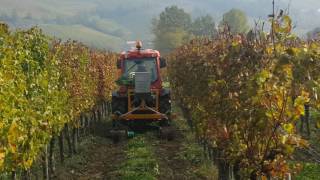 Click on the image to view the video