Model KD
Description
The model KD is equipped with specially shaped burying teeth that perfectly bury the fertiliser without waste.
It has been designed to have the possibility to assemble one or two teeth on the same frame according to the needs
Thanks to remote controls mounted on the tractor, it is possible to regulate the amount of fertiliser to be distributed and at the same time, it is possible to regulate separately the flows of fertiliser in the two burying teeth.
The hopper separated in the middle, allows a continuous fall of the fertiliser working with every type of slope. A central reduction unit controls the mixers inside the two hoppers, for quick and effective deposit of the fertiliser.
The application of a cage roller allows you to level the ground moved by the burying teeth and to adjust the penetration depth of the latter.
The parts in contact with the fertilizer are in certified AISI 304L stainless steel, for greater durability.
All the buriers are equipped with RX I=2500 flexible cables connected to the structure that fastens the burying teeth in place.
Product documentation and catalog
Technical specifications
| Model | Buryng Teeth | Height | Width | Weight | Burier Wheelbase | Hopper Material | Hopper Capacity |
| --- | --- | --- | --- | --- | --- | --- | --- |
| K2D 300x | 2 | 143 cm | 115 cm | 170kg | 80 cm | Acciaio inox | 280 litri |
VIDEO – FERTILIZER BURYING IN ACTION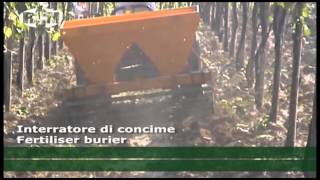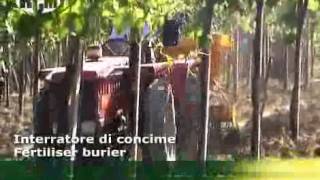 Click on the image to view the video